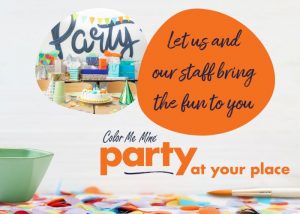 To Go Event Package – $100 plus the cost of the ceramic package.
Pottery package #1: $15 per painter
              – Choice of 4" tiles or ornaments (available November & December)
Pottery package #2: $20 per painter
             – Choice of mugs, salad plates or bowls
Pottery package #3: Customized
             – Create a customized package with our store manager by send an inquiry
Details:
The $100 booking payment covers the paint, glaze, firing and travel (does not include pottery items).
Let us bring the FUN to you! Ideal for schools, daycares, and community organizations.
A dedicated staff member to run your party from beginning to end for 2 hours.
Pieces will be fired and ready for pick up 10 days after the party.
Parties require a minimum of 15 people. If 15 people do not attend, we will require 15 items to be painted.
An 18% gratuity will be added to your total for your party host.
Discounts, coupons, or specials do not apply.
If you would like special pieces ordered, we can do that…but give us 3 weeks' notice!
Terms and Conditions:
$100 is nonrefundable unless the party is canceled at least 14 days prior to the event. 
Party Host must pick up entire party and get the finished pieces to their guests or organize ahead of time for delivery.