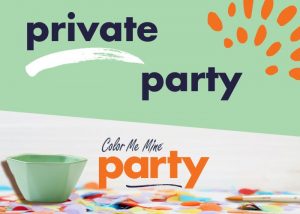 Private Party Studio Rental
Private party studio parties are required for any party of 15 or more guests.
 Private party studio rental can be scheduled if you have many guests, or you wish to have the added privacy of being in the studio with just your guests.
Private Party Studio Rental – $350 plus the cost of the pottery items
 This party package is available daily from 10 am -12 pm and 6 pm – 8 pm.
Additional time is available for an extra charge of $75 per 30 minutes
Pottery items must be at a minimum of $20 per piece.
A 18% gratuity will be added to your total for your party host.
Payment for ceramic pieces, gratuity, and tax will be due on the date of the party.
Package Includes:
Private use of the entire studio for 2 hours. 
Studio Fees for up to 40 painters (an additional $10 per person over 40 painters)
Tables for food, drinks and party items.
Dedicated staff members to run your party from beginning to end.
All paints, glazing, firing, and materials included.
Terms and Conditions:
$350 is nonrefundable unless the party is canceled at least 14 days prior to the event
Contact us with any questions or requests at 813-258-8368 or tampa@colormemine.com