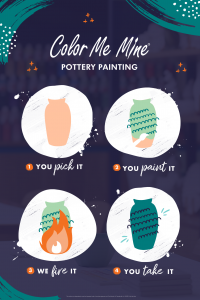 HOW DOES THE POTTERY PAINTING PROCESS WORK?

The overall process takes an average of 2 hours, based on your level of experience. First, you pick out your bisque. Second, select your paint colors. Third, create your masterpiece. Fourth, leave it for glazing and firing.
                  *To ensure customers have adequate time for creating their masterpiece, we stop taking customers 90                          minutes before closing.
DO I NEED A RESERVATION TO COME IN & PAINT? 

We only take walk-ins, however, please call ahead to see if we have any closed studio events or available tables.
HOW MUCH WILL A VISIT COST?

The Studio Fee is $10 which includes unlimited underglazes, tools, and full service plus the cost of pottery pieces chosen. Our pieces range from $18-$85.
HOW LONG WILL IT TAKE TO GET MY PIECE BACK? 

Approximately 7-10 days. Your piece needs to dry then dipped in clear glaze. Then it dries again. Once the piece is dry, it is placed in our kiln at 1,828 degrees. Our cooling down period is about 24 hours. Then we carefully examine the piece, including dremeling any sharp points, to make sure it is in great condition for you. 
Have any specific questions or inquiries about private studio reservations, events, etc.? Call the studio at 813-258-8368 or email tampa@colormemine.com
We look forward to painting with you!